The Executive CIRCLE Leadership Committee serves as a steering committee for current and future CIRCLE initiatives. Executive CIRCLE is comprised of the following faculty, administrators and deans from Andover Newton Theological School and Hebrew College: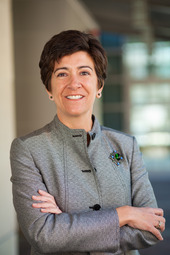 Dr. Sarah Drummond
Dean of the Faculty and Vice President for Academic Affairs & Associate Professor of Ministerial Leadership
B.A., Yale University
M.Div., Harvard Divinity School
Ph.D., University of Wisconsin – Milwaukee
Sarah Drummond came to Andover Newton in 2005 from the University of Wisconsin – Milwaukee, where she served as Protestant chaplain while pursuing a doctorate in educational administration. She previously served Harvard University as Assistant Dean of Freshmen as well as Chaplain for Religious Education at Memorial Church in Harvard Yard. Drummond's research interests include leadership in theological education, ministerial formation, and institutional change. She teaches and consults in the area of program planning and evaluation for ministry and serves as an Evaluation Coach for campus religious organizations through the Evaluation Project at Valparaiso University. She maintains a love for undergraduate campus religious life and serves Harvard University's chapel as an affiliated minister. She is ordained in the United Church of Christ and holds her ministerial standing in the Massachusetts Conference of the UCC.

Rabbi Sharon Cohen Anisfeld
Dean, Rabbinical School at Hebrew College
Rabbinic Ordination, Reconstructionist Rabbinical College
Sharon Cohen Anisfeld has been dean of the Rabbinical School since 2006. Prior to assuming this position, she served as an adjunct faculty member and then dean of students at the school. After graduating from the Reconstructionist Rabbinical College in 1990, Cohen subsequently spent 15 years working in pluralistic settings as a Hillel rabbi at Tufts, Yale and Harvard universities. She has been a summer faculty member for the Bronfman Youth Fellowships in Israel since 1993 and is co-editor of two volumes of women's writings on Passover, "The Women's Seder Sourcebook: Rituals and Readings for Use at the Passover Seder" (Jewish Lights Publishing, 2002) and "The Women's Passover Companion: Women's Reflections on the Festival of Freedom" (Jewish Lights Publishing, 2002). From 2011 to 2013, Anisfeld was named to Newsweek's list of Top 50 Influential Rabbis in America.

Rabbi Michael Shire
Dean, School of Jewish Education
Rabbinic Ordination, Leo Baeck College
Ph.D., Hebrew Union College
Michael Shire joined Hebrew College in 2011 from Leo Baeck College in London, where he served as vice principal and director of education. Shire has published widely in the field of religious growth and development as well as the Jewish theology of childhood. He has also published four books of creative liturgy with medieval illuminations in association with the British Museum. He and his wife, Rabbi Marcia Plumb, have two children.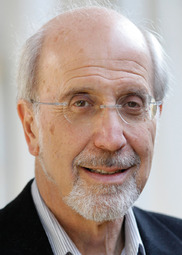 Dr. Barry Mesch
Stone-Teplow Families Professor of Jewish Thought
Special Assistant to the President 
Ph.D., Brandeis University
Barry Mesch, an expert in medieval and modern Jewish thought, theology and the Holocaust, and the history of biblical interpretation, oversees the academic programs of the college and takes special responsibility for the Jewish studies and Hebrew language programs. In 2001, he guided the creation and administration of the first online Master of Arts in Jewish Studies program on the Internet. Prior to his arrival at Hebrew College in 1990, Mesch had a 20-year career as the founding director of the Center for Jewish Studies at the University of Florida, Gainesville. During this time, he was instrumental in acquiring several large collections of Judaica for the university. These became the Isser and Ray Price Library, the largest Judaica collection in the southeast. His book, "Joseph Ibn Caspi, Fourteenth Century Philosopher and Exegete," was published in 1975.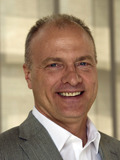 Dr. Gregory Mobley
Professor of Christian Bible
B.A., Campbellsville College
M.Div., Southern Baptist Theological Seminary
Th.M., Harvard Divinity School
Ph.D., Harvard University
Gregory Mobley is Professor of Christian Bible (and more specifically, the brilliant first half of the canon known as the "Old Testament" or "Tanakh"). Since 1997, Mobley has been conducting experiments in intuition and spontaneity at Andover Newton, trying to break through his modern conditioning in order to understand the strange and beautiful world of the ancient prophets and poets who gave us the Bible. For the results of these experiments, see, for instance, The Return of the Chaos Monsters—and Other Backstories of the Bible (Eerdmans, 2012). Mobley is entranced by Judaism and spends as much time as possible at neighboring Hebrew College where we are running a different set of experiments, in interfaith learning, and discovering that it is possible to love your own faith without hating someone else's. For the results of these experiments, see Jennifer Peace, Or Rose, and yours truly, editors, My Neighbor's Faith: Stories of Interreligious Encounter, Growth, and Transformation (Orbis, 2012). Mobley did receive formal education—at public primary and secondary schools in central Kentucky, Campbellsville College (B.A. 1979), Southern Baptist Theological Seminary (M.Div. 1984), Harvard Divinity School (Th.M. 1986), and Harvard University (Ph.D. 1994)—but it was only partially successful. Mainly, Mobley seeks to hear and hum the Song of Life that flows out of the pores of the universe and between the lines of Scripture.
CIRCLE Executive Leadership in Action


(Above) Barry Mesch attends a CIRCLE sponsored public lecture and reception.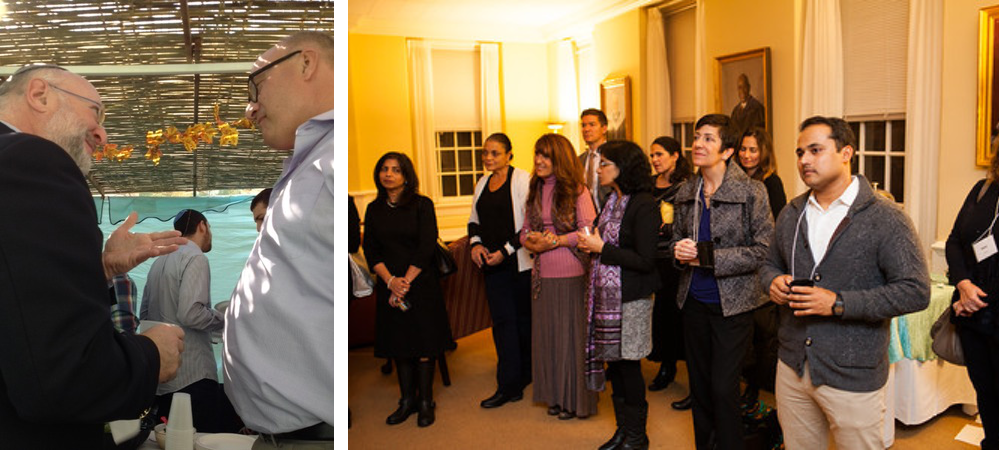 (Right) Sarah Drummond, second from right, attends a reception for Eboo Patel.
(Left) Greg Mobley helps celebrate Sukkot with Hebrew College President Danny Lehmann.