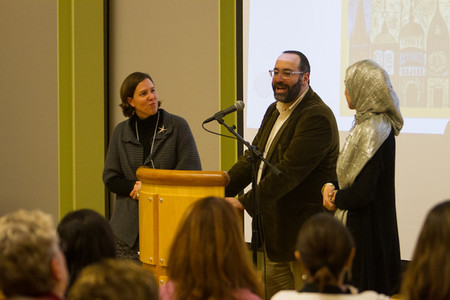 Rabbi Or Rose is the Director of the Center for Global Judaism at Hebrew College and the Co-Director of CIRCLE. Rabbi Rose is the author or editor of many articles and books, including My Neighbor's Faith: Stories of Inter-Religious Encounter, Growth, and Transformation (Orbis, spring 2012), and Jewish Mysticism & the Spiritual Life: Classical Texts, Contemporary Reflections (co-editor, Jewish Lights, 2010). He is also serves as one of the publishers of the Journal of Inter-Religious Dialogue and is a member of the editorial committee of Sh'ma: A Journal of Jewish Responsibility. In 2009, Rabbi Rose was selected as a member of the Shalom Hartman Institute's inaugural North American Scholar's Circle. He is currently completing a octorate at Brandeis University in Jewish Thought, with a thesis on the famed Hasidic mystic and communal leader, Rabbi Levi Isaac of Berditchev.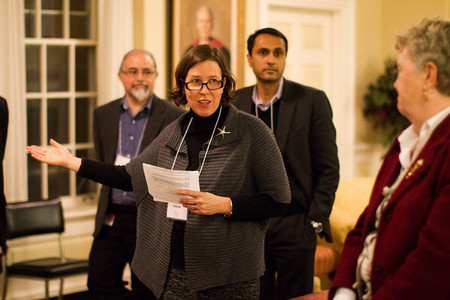 Jennifer Howe Peace is associate professor of interfaith studies at Andover Newton Theological School where she co-directs the Center for Inter-Religous and Communal Leadership Education (CIRCLE), a joint center shared with Hebrew College. Dr. Peace is the founding co-chair of the American Academy of Religions group, "interreligous and interfaith studies." Publications include, My Neighbor's Faith: Stories of Interreligious Encounter, Growth, and Transformation, Jennifer Peace, Or Rose & Gregory Mobley, eds.,  (Orbis, 2012) and  Religious Resources for Interreligious Engagement, Or Rose, Jennifer Peace & Homayra Ziad, eds., (forthcoming from Orbis, 2016). In addition Dr. Peace is part of an editorial team for a five-year series from Palgrave Macmillan, Interreligious Studies in Theory and Practice  and serves as publishing editor of the Journal of Interreligious Studies and State of Formation (both online publications of CIRCLE ). Dr. Peace has been a leading organizer of numerous interfaith groups including the United Religions Initiative, the Interfaith Youth Core, and Daughters of Abraham.
Find her CV Here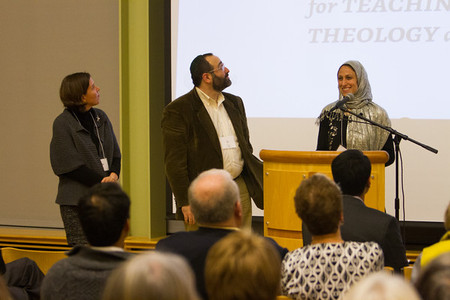 Celene Ibrahim, MDiv, is the Islamic Studies Scholar-in-Residence jointly appointed to the faculties of Andover Newton Theological School and Hebrew College and co-director of CIRCLE. She lectures and publishes widely on topics including the histories and theologies of interreligious relations, Islamic religious leadership and higher education, Islam and Muslims in North America, Islamic family law, Muslim feminist theology, and Qur'anic studies. Ms. Ibrahim-Lizzio has been recognized as a Harvard Presidential Scholar and a Fellow in Religion, Diplomacy and International Relations at Princeton University's Woodrow Wilson School of Public and International Affairs. She earned a Masters of Arts in Women's and Gender Studies and Near Eastern and Judaic Studies from Brandies University, a Masters of Divinity from Harvard Divinity School, and a bachelor's degree in Near Eastern Studies with highest honors from Princeton University. She is completing a doctorate at Brandeis University in Arabic and Islamic civilizations and also serves as the Muslim Chaplain for Tufts University.
Find her CV Here                Follow me on Academia.edu

Highlights from the Co-Directors

October 3, 2014 – Celene Ibrahim-Lizzio is invited to deliver the Annual Muslim Student Society Eid Lecture at Worcester Polytechnic Institute on "Building Inclusive Communities"
________________
September 20, 2014 – Jennifer Peace and family attend the People's Climate March in New York City.
________________
September 18, 2014 – Co-Directors host Chocolate Reception to launch the year drawing more than fifty Andover Newton and Hebrew College affiliates and Muslim Community Members.
________________
September 7, 2014 – Celene Ibrahim-Lizzio delivers a lecture, "Dealing with Difference," sponsored by Critical Connections, hosted by the Islamic Society of Western Massachusetts, Sept. 7.
________________
August 10-14, 2014 – Celene Ibrahim-Lizzio presents a paper at the international symposium Religious Identity and Renewal: Jewish, Christian and Muslim Explorations at Seattle University School of Theology & Ministry and co-sponsored by The Lutheran World Federation
________________
August 3-8, 2014 -Celene Ibrahim-Lizzio serves as scholar-in-residence alongside Rabbi Hillel Katzir and former Andover Newton President Nick Carter.
________________
July 2014 – Jennifer How Peace Participates in the Reconstructionist Rabbinical College Program Cultivating Character: A Conversation Across Communities
________________
June 2014 – Celene Ibrahim-Lizzio presented"Problematizing Liberalism: When 'Islamic Feminism' is a Misnomer," at the annual conference of the Program on Religion, Diplomacy, and International Relations , sponsored by Princeton University Liechtenstein Institute on Self-Determination, Vienna, Austria, June 19-21.
________________
May 2014 – CIRCLE co-directors Or Rose and Celene Ayat Lizzio, along with CIRCLE co-founder Greg Mobley led a four session adult education course entitled: "Encountering God in Judaism, Christianity, and Islam." The course was hosted by Temple Aliyah in Needham. Participants from the First Baptist Church and the Congregational Church in Needham also attended alongside members of the local Muslim and Baha'i communities. The course was free to all participants.
________________
May 7, 2014 –  More than 400 members of the Hebrew College community gathered for the school's annual spring gathering and to celebrate the 10th anniversary of the Rabbinical School. As part of the celebration, Or Rose and Jennifer Peace received an award from for "innovative leadership in interfaith learning." The acknowledgment is another indicator of institutional commitment to the work.
________________
May 2014 – The work of co-director Celene Ibrahim-Lizzio is highlighted by the Religion Initiative of the Council on Foreign Relations.
________________
March 14th, 2014: Or Rose in partnership with Homayra Zaid (Trinity College) begin a series of conversations entitled "Can We Talk?" This is a blog style forum for substantive conversation among Jewish and Muslim intellectuals, teachers, and community leaders. The goal is to engage in honest and respectful dialogue about a range of spiritual, ethical, social, and political issues of concern to our contributors and to their communities. 
________________
February 6, 2014 –  As part of the UN's World Interfaith Harmony Week, Religions for Peace hosted a "Best of Interfaith" webinar series. Jennifer Peace and Or Rose, spoke in conversation with Bud Heckman on the topic of "The Future of Interfaith in Higher Education." 
________________
January 24, 2014 – Jennifer Peace presented on a panel called, "Pedagogies for Teaching Interfaith Cooperation," as part of a conference, "Toward a Field of Interfaith Studies: Course Sequences, Pedagogies, and Best Practices." Funded by the Teagle Foundation, the conference was convened by the Interfaith Youth Core in cooperation with Of Many Institute for Multifaith Leadership at New York University. In addition, Dr. Peace served on the steering committee to award grants to support campuses in the development of course sequences focused on interfaith cooperation. Other steering committee members included: scholars and educational leaders: Ali Asani, Nancy Cable, Paul Knitter, and Rachel Mikva.
________________
February 21, 2013 – Jennifer Howe Peace delivers the 22nd Surjit Singh Lecture in Comparative Religious Thought and Reflection entitled "Spiritual Other/Spiritual Self: Models of Transformative Interfaith Work" at the Graduate Theological Union. Click here to see a video of the talk and responses from Charles Gibs (United Religions Initiative) and Rebecca Parker (Star King School for the Ministry).  To read the text of the lecture, click here.
________________
The book, My Neighbor's Faith: Stories of Interreligious Encounter, Growth and Transformation (Orbis, 2012), inspired by a Henry Luce Foundation-sponsored CIRCLE conference in 2010, received the 2013 Catholic Press Association Book Award: Pastoral Ministry (3rd Place). In addition, it was selected by Education For Ministry, a certificate program of experiential theological education for laity under the direction of The School of Theology, Sewanee.
____
April 2012 –  "Finding My Voice in Interfaith Work," by Jennifer Peace appears in the  The Interfaith Observer.
"Desceding from Mount Moriah: A Reflection on Interfaith Study" by Or Rose appeared in the Winter 2011 edition of  Tikkun.
September 9, 2010: An  interview with Or Rose appears on the  Council for the Parliament of the World's Religions Website.
The article "An Evangelical Interfaith Imperative?" by Jennifer Peace appeared in the Spring 2010 edition of the  BTI Magazine.